Oak Ridge and Warren County are the Tennessee Finalists!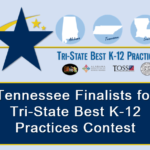 Alabama may reign as the National Champion in football, but there is stiff competition coming from Tennessee for the overall grand prize winner of the Tri-State Best K-12 Practices contest.  In the presence of 75+ Tennessee Directors of Schools and Superintendents, the two Tennessee Finalists were revealed at the Tennessee Organization of School Superintendents (TOSS) Legislative and Learning Conference.  [The two Alabama finalists were revealed at the Alabama Association of School Board's (AASB) Winter Conference in December.  Click here for information on contest winners Eufaula City Schools and Muscle Shoals City Schools.  Louisiana finalists will be revealed later this spring.]
The winning entries — "Strategic Plan 2020" from Oak Ridge Schools and "STEM Education Program" from Warren County Schools – were selected as the "BEST of the Best Practices" submitted from a diverse and competitive field of high quality Tennessee school system entries.
In the 2nd year of this contest in Tennessee — sponsored by TOSS and LEAN Frog — these two EXCEPTIONAL entries were publicly recognized, and each received a $1,000 cash prize.  Both entries will compete against the contest finalists from Alabama (co-sponsored with the Alabama Association of School Boards/AASB) and from Louisiana (co-sponsored with the Louisiana Association of School Superintendents/LASS) for the Grand Prize of $4,000.  The Grand Prize winner will be recognized at a school board meeting so the local community can share in the school system's recognition for positively impacting student achievement and promoting the effective and efficient use of public resources.
The Oak Ridge Schools' "Strategic Plan 2020" was initiated by Superintendent Bruce Borchers in 2016 in cooperation with educators, administrators, and community members.  This insightful plan is designed to achieve five strategic goals: academic excellence, educator excellence, learning environment excellence, operational excellence, and stakeholder excellence.  Each strategic goal has a designated owner.  Each goal is monitored and measured with specific quantitative measures.  ORS uses a scorecard system to track each goal and their associated Key Performance Indicators.  As goals are met they are celebrated throughout the school system. Each goal report is shared with the Oak Ridge Board of Education and the community and new/revised goals and strategies for the next year's improvements are created based upon analysis and input.   This collaborative Best Practice has promoted stakeholder engagement, transparency, and accountability as ORS prepares students for college, career, and life success.
Warren County Schools partnered with business and industry to develop a comprehensive STEM program centered around Mechatronics-a blend of electronics, mechanics, and computer/processor control technologies critical in manufactured products and the manufacturing process.  Working with local industry and the Tennessee Department of Education, WCS created a Mechatronics Pathway curriculum.  Program enhancements now include robotic stimulators in all schools and the "STEM on Wheels" lab that transports robotic equipment and 3-D printing to the schools.  This successful Best Practice has helped students develop system critical thinking skills, problem solving skills, and begins a career path in engineering and industrial manufacturing through the earning of the Level 1 Siemens Mechatronics Industry Certification.
This year's Tennessee entries included a wide-range of Best Practices — from a mobile summer feeding program to blended educational opportunities in a suburban/rural area to identifying and helping students from disadvantaged backgrounds succeed in postsecondary education.  We thank all of those who took the time to enter the contest and we applaud all your efforts on behalf of the students in Tennessee public schools!
Stay tuned for detailed posts on each finalist from Alabama, Tennessee, and Louisiana.