Eufaula City and Muscle Shoals are the Alabama Finalists!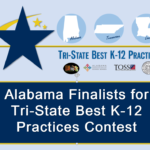 GREAT things are happening in Alabama public schools!  This past Friday, Eufaula City Schools and Muscle Shoals City Schools were recognized as the Alabama Finalists in the "Tri-State Best K-12 Practices" Contest.
Their titled entries — "From Crayons to Careers:  Intentional Preparation for College and Career Readiness" from Eufaula City Schools and the "Pathfinder Alabama Program" from Muscle Shoals City Schools – were selected through a double-judged process as the "best of the best" from a large, competitive field of high quality Alabama school system entries.
In the 4th year of the "best practices" contest in Alabama — sponsored by the Alabama Association of School Boards (AASB) and LEAN Frog — these two OUTSTANDING entries were publicly recognized and received a $1,000 cash prize at the AASB Annual Convention in Birmingham.  Both entries will compete against the finalists from Tennessee (co-sponsored with Tennessee Organization of School Superintendents/TOSS) and Louisiana (co-sponsored with Louisiana Association of School Executives and Louisiana Association of School Superintendents LASS/LASE) for the Grand Prize of $4,000 and regional bragging rights for impacting student achievement and promoting the effective and efficient use of public resources.
The Eufaula City Schools entry represented a deliberate move from a system of schools to a school system.  The school system reviewed activities across the district and tied all major activities and events to their "Dream Big, Innovate Often" theme.  All levels of leadership throughout the system worked together to develop a systematic approach to knowing what to do, when to do it, how to do it, and who should do it.  After the completion of events, leadership followed by recapping what was done and developing detailed notes for continuous improvement.
The Muscle Shoals City Schools entry addressed a national problem — students in Work-Based Learning programs not being afforded opportunities in skilled, technical environments due to employer restrictions on insurance of minors.  To alleviate the problem, Muscle Shoals piloted the Pathfinder program at their Muscle Shoals Career Academy.  They partnered with a human resources company to be the employer of record.  At the time of inception, there was no other program in the nation like it.  Now others are replicating this best practice across the country.
This year's Alabama entries represented a vast range of departments/functional areas (from Child Nutrition to Career Tech), addressed numerous challenges schools/school systems face (from summer slide to lack of summer and other employment for students), and creatively used resources such as social media, scheduling, and buildings.  We thank all of those who took the time to enter the contest.  We applaud your work and we thank you for all you do on behalf of Alabama public education.
Stay tuned for feature posts on the Alabama finalists.