Please enjoy our very own Dave Knowles' great blog kicking off Teacher Appreciation Week!
One of the fundamental tenets of our country– fought for and established by Founding Fathers and generations hence — is the freedom of CHOICE.  This freedom, both then and now, attempts to balance personal and local needs and actions with national parameters of shared concern.  This powerful and recurring theme influences our daily personal lives and our political conversations.
Today, choice is a prominent issue in public education.  This local and national conversation covers a wide spectrum of topics from student funding to budget expenditures to equal facilities to core curriculum to school-prepared meals.  Since this discussion can be a bit overwhelming, I suggest that you make a personal choice to become active in your child's education.  Make a choice to appreciate and support your child's #1 influencer at school–his or her teacher!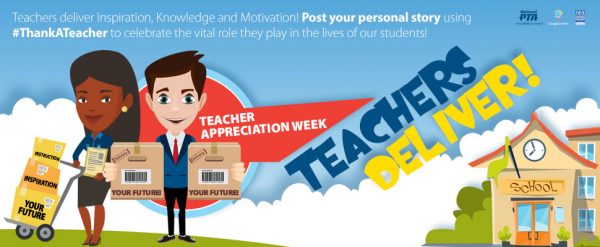 This choice can be turned into action by supporting the National Parent Teacher Association and its local, district and school-based associations.  The National PTA– with a mission "to make every child's potential a reality by engaging and empowering families and communities to advocate for all children" — has been a choice for the parents of school-age children since 1897.  It is a powerful voice for all children, a relevant resource for families and communities, and a strong advocate for public education.
This week, you can take personal action on this choice.  The National PTA has designated May 8-12, 2017, as "Teacher Appreciation Week".  This year's theme is Teachers Deliver".  And, YES, they do!  Teachers deliver so much to our students–learning, inspiration, motivation and, ultimately, keys to their futures.
For more information go to:  http://www.pta.org/ThankATeacher.
Please make a positive personal choice and join LEAN Frog (@ByronsLEAN on Twitter) in delivering thanks and gratitude to teachers by:
Sharing photos and thoughts about appreciating our teachers #ThankATeacher on social media;
Participating in a school or PTA-sponsored event;
Acknowledging your interest in your student's school work to their teacher and re-enforcing, to your child, the importance of their efforts;
Personally expressing your appreciation–in any thoughtful way, large or small — to the teachers that work-with and care-about your child.
Make a good CHOICE!  Support teachers who change the lives of millions of children every day.  Their work and impact extends far beyond the boundaries of the classroom!
Dave
P.S.  LEAN Frog has made the choice to truly appreciate and support TEACHERS and Public Education!
The "Tri-State Best K-12 Practices" Contest — sponsored by LEAN Frog in association with the Alabama Association of School Boards (AASB), the Tennessee Organization of School Superintendents (TOSS), and the Louisiana Association of School Executives/Louisiana Association of School Superintendents (LASE/LASS) — is a contest recognizing Best Practices and Innovations in K-12 public schools (think teachers performing innovative programs) that impact student achievement and promote effective and efficient use of public resources.  Initial contests will be held in Alabama, Tennessee and Louisiana where two finalists will be selected from each state and each will each receive $1,000.  One overall tri-state winner will be selected from the state finalists and receive an additional $4,000 grand prize.