This is the third post in a six-part series recognizing the state finalists and overall Grand Prize winner of the Tri-State Best Practices contest.  Our previous posts featured Alabama state finalists Eufaula City Schools and Muscle Shoals City Schools.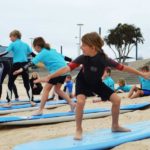 Preparing students for college, career, and life success is a balancing act. School systems not only have to ensure they have an engaging curriculum that addresses the needs of all types of learners, they also must make sure they safely transport students to and from school, serve nutritious meals for students, provide clean and safe facilities, keep parents informed, etc.  The list goes on and on.  In short, they must strategically plan to meet the current and future needs of their students, staff, and communities.  Oak Ridge Schools (ORS), one of the Tennessee finalists in the Tri-State Best K-12 Practices contest, is doing just that with their strategic plan.
Origins of the Oak Ridge Strategic Plan 2020
Superintendent Bruce Borchers, in partnership with educators, administrators, and community members, began the development The Oak Ridge Strategic Plan 2020 in 2016.  The team created a district mission and vision and identified goals for improvement in five critical areas:
Academic Excellence:  World class, balanced curriculum and instruction focused on student achievement

Educator Excellence: Committed, innovative and qualified educators the direct link to our students

Learning Environment Excellence:  Safe, secure and effective environment, classrooms and infrastructure that promote learning 

Operational Excellence:  Excellence in the administration, application, operation, and accountable stewardship of our valued educational resources to meet student needs 

Stakeholder Excellence:  A strong family, community and school partnership that values and supports excellence in education
The team meets monthly to review Key Performance Indicators (KPIs) that measure the progress on each goal. Each goal has an assigned owner.  The owner reports on the goal to the board of education monthly and reports on the goals to the community annually.  As a result, every department and every school community are afforded the opportunity to actively engage in the success of all students. 
Celebrating Successes and Identifying Opportunities to Improve
The ORS Strategic Plan 2020 (Oak Ridge 2020) goals for academic, educator, learning environment, operational and stakeholder excellence are all measured quantitatively and tracked on scorecards.  Examples of quantitative measures include percentage of teachers implementing projects/problem based learning opportunities (academic excellence goal), percentage of teachers retained from previous year (educator excellence goal), percentage of buses equipped with operable cameras and radios (learning environment excellence), average resolution time for completion of staff help desk tickets (operational excellence goal), and number of advisory council meetings held each year (stakeholder excellence goal),   Met goals are celebrated.  For example, students were recognized for being certified in Adobe Photoshop and Illustrator as part of the academic excellence goal of promoting critical thinking skills and problem-based learning.  Improvement opportunities and strategies are identified for goals that are not met.  The ORS team identifies strengths, weaknesses, opportunities and threats to improvement in each area.  When goals for student progress in math were not met, ORS reached out to outside experts for assistance.  The result is a best practice that enhances stakeholder engagement, increases organizational transparency, and promotes achievement and accountability.
Why We Like This Entry
While most if not all school systems have a strategic plan, the Oak Ridge 2020 goes beyond what is typically developed and includes Key Performance Indicators, a balanced scorecard, and planned celebrations of success.  Oak Ridge has set in place an effective structure for continuous improvement.
Goals are clearly identified and communicated.  The scorecard provides a very clear delineation of goals and whether they have been met. Information is clear-cut rather than confusing to stakeholders (students, staff, community members, etc.) 

Each goal has a designated owner.  The identification of responsible parties makes improvements much more attainable.

Each goal is monitored, adjusted, and improved annually under the direction of district leaders.

Successes/wins are celebrated and keep stakeholders motivated to continue achieving excellence.
Meeting Their Mission
The community of stakeholders that developed Oak Ridge 2020 created and lives by this mission to prepare each student for excellence in education and the workplace.  As superintendent Borchers remarks, "This Strategic Plan is all about continuous improvement and achieving excellence in education.  It is an important and detailed framework for ORS that envisions our future and sets strategic goals to realize that future." 
Congratulations Oak Ridge Schools for Your Award Winning entry.  We applaud you for strategic planning process and execution that promotes achievement, engagement, transparency, and accountability.