This is the final post in a six-part series recognizing the winners of the Tennessee's Best and Alabama's Best Contests.  Our previous post featured Tennessee's Best Grand Prize winner Kingsport City Schools (TN), and the following runners up: Indian Valley Elementary (AL), Maury County (TN), Crestline Elementary (AL), and Lauderdale County (TN). Stay tuned for details about an exciting Best K-12 Contest expansion.
"In the 21st century, scientific and technological innovations have become increasingly important as we face the benefits and challenges of both globalization and a knowledge-based economy. To succeed in this new information-based and highly technological society, students need to develop their capabilities in STEM to levels much beyond what was considered acceptable in the past."  National Science Foundation
Ensuring that all students have access to high-quality learning opportunities in STEM (Science, Technology, Engineering, and Math) subjects is a concern for many in education. Barkley Bridge Elementary School in Hartselle, Alabama recognizes that supporting both teachers and students in STEM is a game changer.  Barkley Bridge and their comprehensive K-4 STEM program  were recognized by Lean Frog and the Alabama Association of School Boards (AASB) as the Grand Prize Winner of the 3rd Annual Alabama's Best Contest. Their entry showcases a sustainable approach to "STEM schooling" that is "preparing the little faces of today for a little of what they will face tomorrow."
Barkley Bridge's STEM Journey
In August of 2014, Susan Hayes (Barkley Bridge Elementary School's principal at the time) met with several teacher leaders to discuss a perennial concern: "How do we reach the students we are missing when using traditional educational approaches"? 
The conversations that ensued left them seeking more information about STEM (Science; Technology; Engineering; Mathematics) schooling and the power of problem solving. As a result, the faculty identified five "goals" that they wanted to address in an interdisciplinary manner:
1.       Every Child will engage in STEM/Problem-Based Learning to increase capacity for thinking "outside the box", to increase persistence and stamina in learning, and to boost resiliency after failure – since failure is a part of learning and life.
2.       Every child will find academic success.  Some find their success through traditional schooling; STEM school will open the doors to more Students.
3.       Every child will be introduced to STEM careers and leadership opportunities.
4.       Every child will develop character and soft skills as well as academic skills.
5.       Fourth grade "graduates" will be on the path to college and career readiness.
Barkley Bridge rightfully recognized that to prepare their students for STEM learning, they needed to prepare their teachers as well.  Teachers engaged STEM experts and prepared themselves by learning more about problem-based learning, higher order questioning, facilitating learning through a design model, and how to seamlessly integrate technology into day-to-day instruction.  Project Lead the Way's (PLTW) products and approach were identified as the program that would best meet the needs of their students.  Lead teachers at the school piggy-backed on PLTW training at another school district and conducted turnaround training sessions at their school home. This turnaround training helped them achieve the buy-in of teachers throughout the school so everyone was on board by roll-out.  Each grade level offers PLTW models, AMSTI (Alabama, Math, Science, and Technology Initiative) modules, Mystery Science , Kodable coding, and more.
Barkley Bridge solicited and received corporate donations from several Morgan County businesses, including their Partner in Education, Sonoco.  Their Parent Teacher Organization (PTO) also raised community funds for the STEM initiative and as a by-product raised community awareness of the need for a strong STEM program.      
STEM in Action at Barkley Bridge
Barkley Bridge has seen both qualitative and quantitative benefits with the implementation of their comprehensive STEM program. 
1.       Involved parents: Parent volunteers created a "Putting Parents into the Equation" team.  The PPE volunteers work with students to build number sense and problem-solving skills. 
2.       Engaged community: Parents and community helped the school deliver STEM learning beyond the classroom through activities like Family STEM Night, Virtual STEM Day, and a Library Maker Space.
3.       Inspired students: Students, parents, and teachers have commented on the impact of this approach to learning:
a.       "I like sharing ideas and collaborating.  I understand it better and understand the steps better when I am doing and not just watching."  –Sawyer Tapscott, Fourth Grader
b.       "I have seen my own kids think creatively in ways they have not before.  They no longer just build things, they transform them."   –Janadah Sartin, PTO President
c.       "My husband works in the STEM industry.  I was showing him what we are doing with coding.  He just kept saying 'Third graders are doing that?'  He was amazed."                   –Teacher Wendy Goss
4.       Marked improvement in student Math and Science ACT Aspire scores: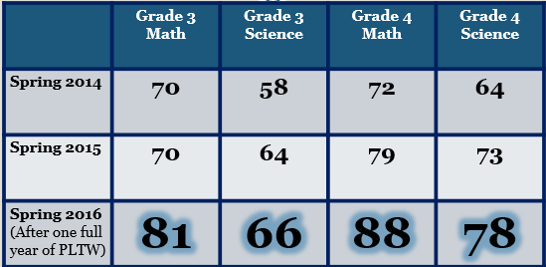 Why we Like this Entry
Barkley Bridge's STEM program emphasizes the importance of planning and execution and achieving buy-in.  They identified goals for their STEM program at the onset, planned their work and worked their plan.  Their wide-ranging program involves the support of all stakeholders and helps ensure the sustainability of these best practices in STEM learning.
Congratulations Barkly Bridge Elementary School for your Grand-Prize winning entry.  We applaud your students for their growth in learning and in their achievements, the faculty for its commitment and innovation, and the community for its engagement and support.