"Everything is different and yet everything is the same".  This is a phrase I heard a couple of years ago from a man I was helping in reference to a tool he had just borrowed.  At the time, I grinned, said 'yes sir', and thought that was a silly thing to say.  What a major contradiction, right?
As time has gone on, I think about that saying all the time and how true it really is.  Things in this life tend to be similar in many ways, yet overall they are very different.
Case in point:  I recently have been helping with the local Fantasy Playhouse Children's Theater as they prepare for their annual performance of A Christmas Carol.  Truth be told, I would not be there, except that my two oldest children decided to audition and were selected to be carolers in this year's production.  I was amazed at the level of expertise this group demonstrated.  The logistics that have to come together for this production to open is overwhelming.  Every aspect, from the assembly and dressing of the set to the technical components of the show to the management of the actors, ensures a great performance.  You might ask, what does this have to do with anything?
I remember another phrase: "Everything has a place and everything in its place".  As to the exact origin of this phrase, you could travel down many paths.  Its origin could be as a Benjamin Franklin quote, a practice by soldiers keeping their packs ready for war, or sailors securing their gear from strong ocean storms.  Even farmers use this philosophy to keep from misplacing their tools, saving them money to feed their families. This phrase has been used to teach a mentality of work that helps lead to success.  It is no different in the theater.  See the illustration below:
The proper place for Tiny Tim's Crutch!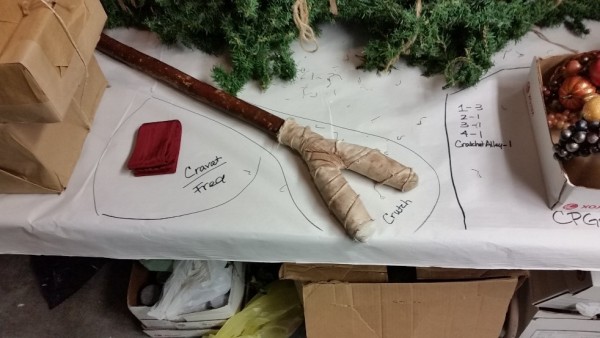 I was intrigued with this find.  I love seeing how people size up work, tasks, and projects, then utilize ideas to ensure success.  In this case, ensuring a necessary prop is ready for the big performance.  Great process – right out of the Lean 5S (Workplace Organization) playbook!  It is one of many I have experienced with this group.  I have to say the Technical Producer Lynn Broad (In House Production for Von Braun Center, Huntsville AL) is impressive, as well as the Director Jeff White of Jeff White Photographer.   These two, along with their entire team, have done an incredible job.  They have a process for everything.  There is even a process for the management of dressing the actors.  Makeup….costumes…..microphone hookup…….sound check………voice warm-up……….props…….etc.  It has been fascinating to watch!
As a member of LEAN Frog, a LEAN Six Sigma "process" company, I am always thrilled to see great practices, no matter what industry or profession.  Look at the similarities in the process the theater group uses and the system a school uses for maintenance of facilities, such as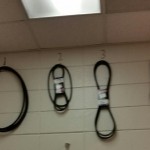 Mobile County Public School System.  The Building Maintenance Engineer at this school numbers his needed parts per heating and cooling unit that he maintains and stores them on the wall in clear view to ensure he has the correct part in case of a failure.  It reduces time looking for the part and helps him know visually that he is prepared.
The LEAN Tool 5S (Workplace Organization) is based on practical organization approaches like those pictured but goes further to systemize the organization process, making it sustainable over time.   It is a simple five step tool that gets its name from each step, starting with the letter "S":
SORT – Evaluate and remove unnecessary items
STRAIGHTEN – Decide where to keep necessary items. Organize items by frequency of use and clearly designate their correct location. Make it easy to find items when needed. Make it visually obvious when they are not in their correct place.
SHINE – Clean everything inside and out. Find ways to prevent dirt and contamination from occurring. Adopt cleaning as a form of inspection. Make cleaning a part of everyday work.
STANDARDIZE – Establish routines, procedures and standard practices for regularly and systematically repeating the first three "S's".
SUSTAIN – Document how organizing and cleaning will be done and make standards visible. Maintain and monitor the first three "S's" on a regular basis.
Organization such as this reduces time to complete tasks, and THAT saves money!  Preparing properly helps provide a great learning environment for our students, so that failures and tasks can be managed quickly, effectively, and with LESS money.   No Scrooge could argue with a mentality like that!
Blog Post Author:  John Higginbotham